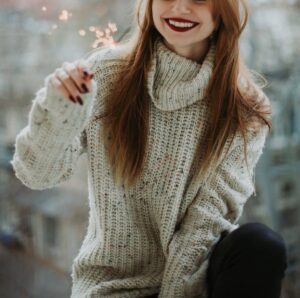 Let's talk openly about biblical beauty and confidence. It's easy for us women to distort what being a confident and strong image-bearer of God looks like. Some of us try so hard not to be the timid and quiet woman, so we come across as intimidating or demanding attention. Others of us try so hard not to be an intimidating and demanding woman, so we come across as non opinionated or withdrawn, in fear of others. 
Either way, all women have their own insecurities (as do all human beings, right?). So I'm going to attempt to take a look at what the bible says about being a woman of confidence and beauty.
Genesis 1:27 says, "So God created mankind in his own image, in the image of God he created them; male and female he created them."
We were created in the image of God, which means we were created beautifully. Our beauty should not draw others to ourselves in a self promoting way, but should point others to Christ.
In other words, when people are drawn to us by our beauty, they should be drawn closer to God.
1 Peter 3:3-4, "Your beauty should not come from outward adornment, such as elaborate hairstyles and the wearing of gold jewelry or fine clothes. Rather, it should be that of your inner self, the unfading beauty of a gentle and quiet spirit, which is of great worth in God's sight."
Having a gentle and quiet spirit is an inner beauty that shines from the inside rather than the outside. Jesus also said in Matt. 11:29, "Take my yoke upon you and learn from me, for I am gentle and humble in heart, and you will find rest for your souls." Here, Jesus actually called himself humble and gentle as well.
Being a humble and gentle woman is not a weakness. It is a strength and a trait of inner beauty when we use it to invite others in to find rest and help them see who they are in Christ.
A woman of Godly confidence trusts in who she is in God and does not need to prove herself. Proverbs 31:26 says, "She speaks with wisdom, and faithful instruction is on her tongue."
When our identity is found in Christ, we are free to speak boldly with wisdom and kindness.
We are not focused on self but are able to think of others and invite others in just the way they are rather than comparing ourselves, looking down upon others, or judging others. Our confidence comes from being rooted in Christ and His love so much that we are able to pour that out on the people in our spheres of influence.
What about personality? Maybe you are naturally more talkative or naturally more quiet. The best part is- God created you that way! It does not matter what your personality is, whether you are an introvert or an extrovert, whether you're outgoing or reserved. Every woman will radiate the confidence and beauty that God gave her in her own way. And it certainly does not matter your outward appearance- whether you are short, tall, your size, your hair color, your eye color, etc. We are all created bearing the image of God, which is a beautiful thing!
So, let that beauty shine from the inside out, the way you do it best!